Needle & Threads Custom Tailor Shop Located on the Legendary Broadway Strip is Dressing Men and Women for Success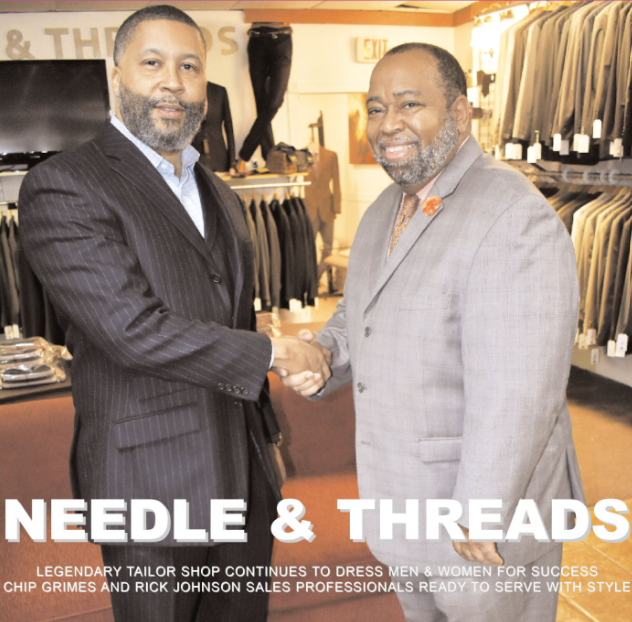 Camden NJ,
The city of Camden has a lot of rich history to share; one of the famous
streets in Camden is Broadway, which used to be a Mecca for retail and
entertainment. Chip Grimes, a Camden native, has kept the retail alive by
continuing the tradition of running a tailor shop that has been there for many
years. Now called Needle and Threads, this is the place for men to come
get the clothing that will make them look good and feel much more confident when
they put in on.
During an exclusive interview with the editor of the nation's faith based and professional newspaper for winners, Anointed News Journal, Chip Grimes explains what motivated him to own this tailor shop and why he feels this work is vital to the community.
Collins:
In an interview with Mr. Chip Grimes, of Needle and Threads. Who is chip Grimes
Grimes:
That's a tough question. I try to be all different types of a person. I guess like a chameleon; what I do is, I strive to build my self-esteem and I try to build others self-esteem, through image. I try to change the narrative of people's images; in order to do that, I have to change my own. So, I'm always trying to learn and continue to thrive and strive to be the best version of myself. 
Collins:
You are here at Needle and Threads, which has a history here in the city of Camden. Tell us about Needle and Threads.
Grimes:
Needles and Threads has been here for roughly 10 to 15 years, but beforehand, everybody knew this building as being Tony's… Tony the tailor. Back in the day, Tony, an Italian guy, really put the tailoring business in this area on the map. This building's been here for over a hundred years. In between, it's had I think three owners and they've all been tailors. So, this place is well known as being a tailor shop. Here at the store, we have Rick Johnson, one of our sales reps, and Mr. Lymon, our tailor.
Collins:
You are carrying on a tradition of tailoring, but you also have full-service retail. Tell us a little bit about that.
Grimes:
Of course. Well, generations change and people change, so everybody doesn't dress the same. So, to accommodate some of the younger generation, we have full-service retail. We have shirts, jeans, jackets, socks, ties, and more. Right now, we're getting to more of the linen for the summer and for vacations and stuff like that.
Collins:
So Chip, let's go back a little bit. Camden is very familiar with Chip Grimes. What was it about the fashion industry or a tailor industry that motivated you to pursue a career in this field?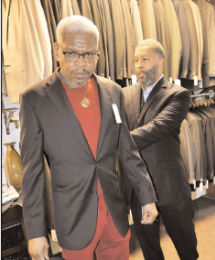 Grimes:
One thing about me, the people who really know me, have seen me wear shoes and suits often, even in my elementary days because my mother was a seamstress. I guess seeing her and noticing the attention and perception of someone and how they are addressed when they are dressed for success, really stood out to me. That's one of the reasons why I always felt good in a suit; I always felt good dressing and I think that motivated me to become the man I am in terms of getting into the fashion industry. I'm trying to change the narrative of the younger generation and how they dress. Some young kids have never put on a suit, so they don't know the dynamics, how it feels and how they're perceived. I want to change that narrative and allow them to at least get the opportunity, so we try to allow them to do that.
Collins:
Okay. Not long ago, I saw a photo of you on social media and I made a comment, "You look good in blue".  You had on a very nice blue suit on, and you were looking very sharp. What is it about a suit? When a man puts on a suit, how does that make him feel?
Grimes:
I think I'm going back to the days of the caveman. I mean, a lot of things we do, most of the time we do it for women. When I put on a suit, the way it makes me feel is almost like a mirror. I see how females and other people look at me. A lot of times I get immediate respect, people call me "Mister" or "Sir" because of the way I'm dressed. That is one of the reasons why I do it and I feel comfortable with it.
Collins:
Tell us about the team here at Needle and Threads. You have a salesperson, you have a tailor, and you're also doing outreach to get your name out more in Camden city and surrounding areas. Explain how important it is for all the components to come together.
Grimes:
I think right now we have a good mesh of individuals with the team. We have somebody like Rick Johnson, he's one of the more, avid persons with the fashion. He's more up on the different retail. I think I'm more business minded in terms of doing more of the promoting; like you said, I put a suit on, and somebody sees me on social media or in person, and a lot of times they'll ask me about the clothes. And then Mr. Lymon, he's more behind the scenes, but he's more involved with alterations and the suits in general, the customizing and the molding or shaping of suits for individuals.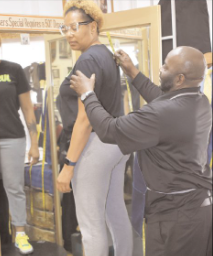 Collins:
At one time, this location and this strip of Broadway was like the Mecca for fashion, for men's fashion. Throughout the years, we have not had as much retail shops here as we would like. Needle and Threads is still here to serve the residents of the city of Camden and surrounding areas. What message do you want to say to the people about Needle and Threads?
Grimes:
I would like to say that being in the heart of Camden, being on the strip on Broadway, we really want to stress that they can come back. When you talk about custom dressing, looking good, feeling good, increasing self-esteem…we want to be a hub for those things. People can come in and they can talk, whether it be fashion, community affairs, new fashion… everyone can leave with a clean and healthy self-esteem. When we go back out in the public and the community, we'll take that with us.
Collins:
Your mother started you and your brother out early in fashion, wearing suits, as you were in school. When it comes to your target market, what age groups do you service? Do you have things for the young kids or just the adults?
Grimes:
Yes, we have fashion for all ages. We want to accommodate everyone. With the children, we want them to understand that through their dress, through fashion comes high self-esteem. We want to show them that fashion can take you a long way. A good friend of mine just told me he was working over at the airport, and someone gave him a tool belt. He threw a tool belt on and he felt like he was the maintenance man. So whatever you put on, it's just like the Bible says, "you are what you perceive yourself as".
Collins:
The team here is also very much community oriented. You you've done a lot in the Camden community. You've made lot of contributions. Why is it important for Needle and Threads to give back to the Camden community?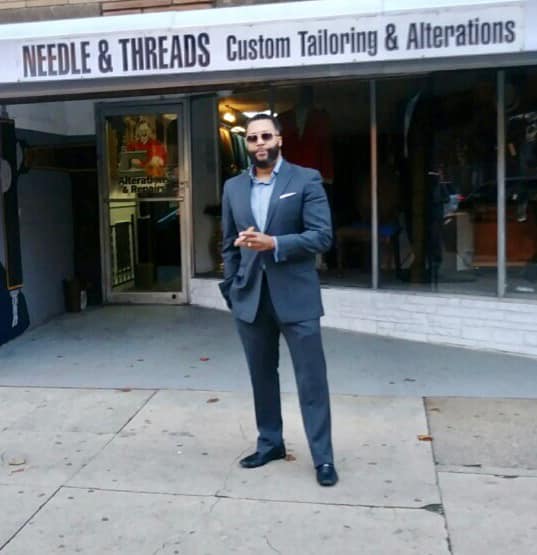 Grimes:
Well, when you're in the hub of Camden, and you've not only grown up in this area since day one, but have family and friends here, you're really vested in the area. I think it's automatically a reason to give back. I like to see everyone's self-esteem rise; you know, I think a lot of us go through identity crisis, and once we find out who we are & who we can be, I think it really helps the community as a whole. So, it's really a must that we give back to the community. It's not that we feel like we have to, but we want to.
Collins:
Now, when I think of your location, there were some legends that had shops up along this location. Where there any that inspired you or that motivated you to continue the legacy.
Grimes:
Yes, my grandma, she lived on little 8th street. My cousins and I would always come over to her house. We would come down the strip on Broadway, and I remember Joe's and I remember Famous; We would go in and look at the retail and look at some of the newer fashion. I think they had a profound impact on my decision going forward.
Collins:
Tell us about your location here and how accessible it is.
Grimes:
I think right now the accessibility is better than it's ever been, because now we're considered on a corner. The shop is bright and because it's always been known as a tailor shop, or a clothing shop, people know this is a spot where you can come and get some good retail. We are down the street from the Downtown transportation center in Camden. We are 603 Broadway in between Royden and Line. Broadway is coming back. It's always been a Mecca, and now it's getting more attention because of some of the buildings like the Cooper center and some of these other buildings. I think this is an ideal spot, especially if you want to deal with the community.
Collins:
You're very accessible; the public transportation lets you off right in front of the store.
All right. Let's talk about your custom suits. What's the difference between wearing a custom suit as opposed to just buying a suit off the rack at a department store?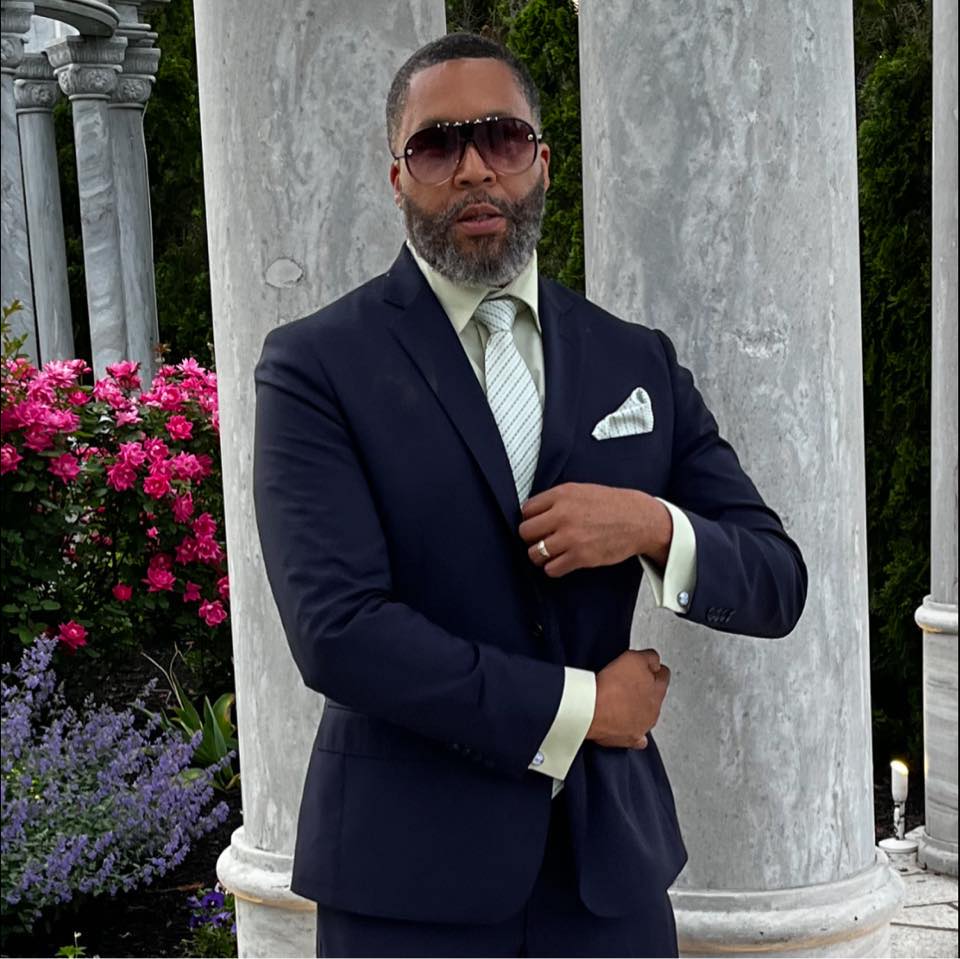 Grimes:
I think it's almost like any relationship you have with a person. If you're really into fashion, you have a relationship with your clothing. If you really feel that type of relationship, you want to go custom; you want something that fits you as perfect as possible. We want the material to be super quality material. You want your linings and stitches to be high end material. There's nothing wrong with getting something off the rack, but you're going to run into situations where it's not going to give you the same type of fit and relationship that you have with your custom suit. When you're wearing something that is custom, with high quality material, it really boosts your self-esteem.
Collins:
And again, you are located at?
Grimes:
603 Broadway.
Collins:
What are your hours of operation here?
Grimes:
Currently, we're working from 11am to 5pm, Wednesday through Saturday. We may change hours to fit our business flow in the future if needed.
Collins:
When it comes to price points, what can people expect when they come into Needle and Threads?
Grimes:
I think they can expect an array of prices. Like I said, we want to be accessible for everyone in the community. So, we have items to fit many budgets. Your budget may be something on the rack, or your budget may be creating a custom suit with higher quality materials that would be a lot more expensive, depending on the materials.  
Collins:
Okay. Is there anything that you want to talk about that I have not asked you?
Grimes:
I'd like to give my wife a shout out. My wife, Michelle Grimes really gives me the drive. She really understands my goals and my vision. She was right by my side. Ironically, she runs a salon; she was in Camden for a long time with the salon. Now she's in
Collingswood, right on the outskirts. My children and everybody in my circle appreciates and understands the goal and why I do what I do.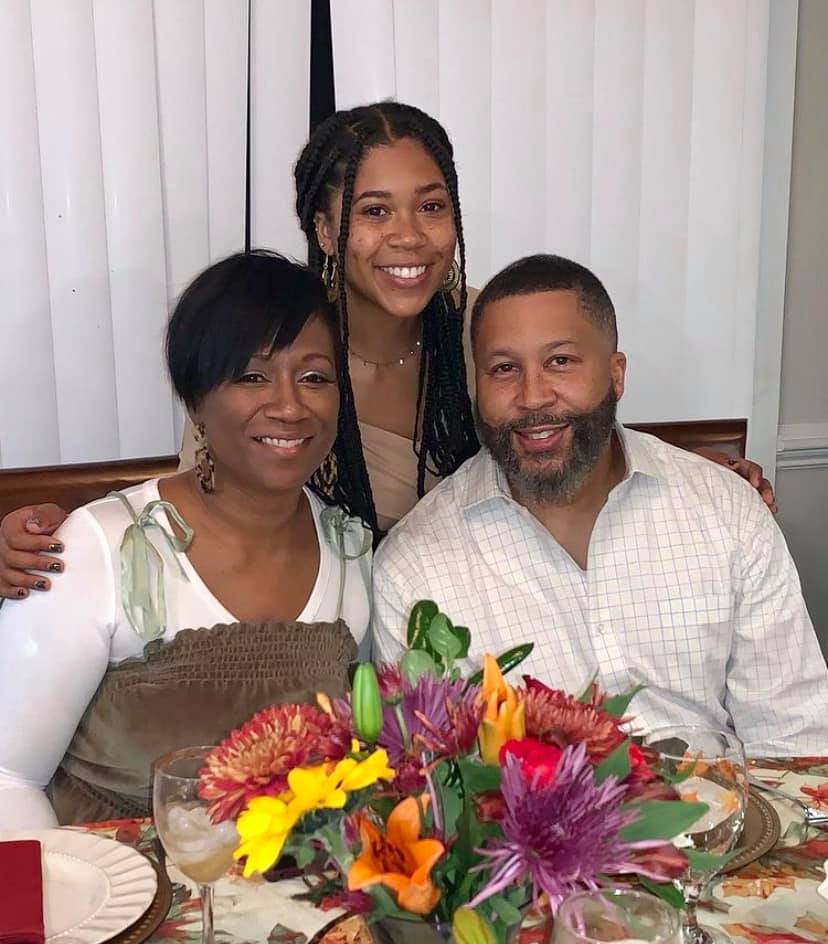 Collins:
The Anointed News Journal has over 180,000 readers, weekly. In conclusion, what do you want to say to the readers of Anointed?
Grimes:
I would say, stay anointed. I want to commend you on the job that you do. Needle and Threads is here, 603 Broadway, Camden, NJ. Don't be afraid to come down and check us out. We don't just have custom high-end, but we also have retail. We're making sure that we are able to accommodate everyone.
Collins:
And we know a lot of people in this geographical market do a lot of events and a lot of fashion shows. Is that something that Needle and Threads will be open to? Do you do workshops or participate in some shows? If so, how can people contact you?
Grimes:
Yes. In terms of workshops, we've been discussing that possibility. We have some young, highly motivated, fashionable individuals who come in and want to partake. They want to get some knowledge about the fashion industry. So we're working on doing some workshops. The way you can get in touch with us is through me, Chip Grimes; my number is 856-986-7705. That's a little more personal to keep those lines of communication open. We're always trying to get involved with a lot of the different events. Anybody doing an event, we'd like you to come and visit us, and discuss the possibilities. In terms of promoting and marketing, we're always open to any ideas.
The Anointed News Journal thanks Chip Grimes for his time and we support his efforts to continue establishing a business that helps men look good and feel good, so that they can be confident as they take on challenges and provide for their families. Go check out Needle and Threads today! They have something for every man.