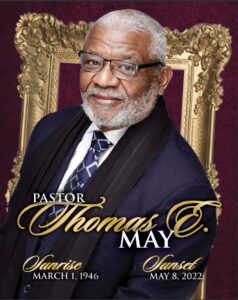 Camden, NJ – The weekend of May 21st & 22nd, 2022 the City of Camden celebrated the life of Thomas E. May, Founder of May Funeral Homes.  Thomas E. May and the May Funeral Homes serves as a business icon in the city of Camden for decades.
Beginning in 1975 with the first May Funeral Home in Camden, followed by an additional five in New Jersey; Pennsauken, Willingboro, Vineland, Sicklerville and one in Philadelphia, PA.
What made the May Funeral Homes special was that it has been family owned and operated since the beginning.  Thomas E. May each day had worked alongside his wife Hazel and his children.
During the early days of May Funeral Homes, they were key in serving the Hispanic community.  As time progressed and the community at large became more familiar, May Funeral Homes became a household name with all cultures in Camden and surrounding municipalities. Their stellar signature to every service provided is the singing of, "There's Not A Friend Like the Lowly Jesus, No Not One-No Not One."  And no one could sing that song as well as Thomas E. May himself.  This was done after the eulogy as the deceased was being prepared for the final viewing or to be escorted to the final resting place.  The other signature staple to a service provided by May Funeral Homes is the releasing of the doves.  This is done after the deceased has been committed to the ground.  The funeral organizers would quote the Holy Scripture Psalm 55:6 "Oh that I had wings like a dove for then would I fly away and be at rest."  They would then release one or two doves at the gravesite.
Thomas E. May was a truly a philanthropist in Camden and supported many causes and programs.  The May family in whole found great joy in giving out turkeys and meals during the Thanksgiving / Christmas season.  His contributions to the community were so amazing that he even received the honor of serving as the Grand marshal for the San Juan Bautista Parada (Puerto Rican Parade) a few years ago. 
Thomas E. May also believed in entrepreneurship.  He participated in several business ventures and helped to give young entrepreneurs their start in business. Some were even fortunate enough to start their own funeral business.  Thomas E. May was an unselfish man who loved and gave his support to everyone.
Camden loved Thomas E. May and the May family.  They have served and done Camden well. We are forever grateful.
About Thomas May:
Thomas E. May was born in Camden, New Jersey on March 1, 1946, the youngest child of the late Samuel May, Jr and Lucy May. He departed this life peacefully at his home in Somerdale, NJ on May 8, 2022, surrounded by his family.
Tommy was educated in the Cherry Hill School System. He graduated from Cherry Hill High School in 1964 where he excelled in athletics as a four-year varsity player in football, wrestling, and baseball. He was a member of the 1960 undefeated football team and was inducted into the Hall of Fame in 1994.
His athletic ability awarded him a scholarship to Hofstra University in Hempstead, New York, where he graduated in 1969 with a Bachelor of Science in Business Administration.  He then attended American Academy McAllister Institute of Funeral Service, graduating in 1969.
Tommy entered the United States Army as a 2nd Lieutenant in 1969. He was stationed in Germany and served as the Operations Officer for Mortuaries in Europe. He was honorably discharged as a Captain in 1972.
In a dentist office in 1965, Tommy met the love of his life, the former Hazel W. Williams. They were joined in Holy Matrimony on April 5, 1969. From their union of over 53 years, they were blessed with five children, Tyrone Sr, Tonya, Terri, Tina, and Toni. Hazel was the love of his life. They traveled all over the world, and especially loved cruising with family and friends.
His children were his pride and joy. He passed on his athletic abilities as they followed in his footsteps and all played sports – football, wrestling, baseball, softball, basketball, field hockey, and track and field. He supported each of them, faithfully attending games, often in his funeral suit, yelling and cheering them on. Many times, his kids didn't know whether to follow his instructions or their coaches.
Tommy was mentored by and worked for Carl Miller from 1964 until starting his own business. He opened the May Funeral Home in 1975 in Camden, NJ. He especially loved working alongside his children Tyrone, Tina, and Toni. Over the years he opened additional homes, and now operates in Camden, NJ, Pennsauken, NJ, Vineland, NJ, Willingboro, NJ, Sicklerville, NJ and Philadelphia, PA. May Funeral Homes, Inc. continues to be a family owned and operated business.
Tommy served as a Coroner for the Camden County Medical Examiner's Office and was a member of the National Funeral Directors and Morticians Association, the National Funeral Directors Association, the New Jersey State Funeral Directors Association, and the Garden State Funeral Directors Association.
Tommy was raised in Mt. Olivet Baptist Church in Haddonfield, NJ, and was baptized at an early age. As an adult, he heard a message entitled "Sold Out" by Charles Craig in Germany and accepted Jesus into his life. Upon returning to the United States, he and Hazel joined First Christway in Camden, NJ, under the leadership of Derrick Cooper. He also played the piano for the Sunday School choir at Mt. Olive Baptist Church in Magnolia, NJ.
Tommy joined the Tabernacle of Faith Inc. Church of God in Christ (COGIC) in 1981 under the leadership of Pastor Elvin Ezekiel. He served faithfully for over 40 years and led the initiative for the purchase of the historic property on 5th and Cooper Streets in Camden, NJ. Over the years, he served as a Praise and Worship Leader, Chairman of Pastor's Anniversary Celebration, Church Anniversary Chairman, Building Fund Committee Chairman, President of Sanctuary Choir, Founder of Morning Glory Choir, Director of Music Ministry, Early Morning Prayer Leader, Director of Married Couples' Ministry, Treasurer, Church Administrator, Vice Chairman of Board of Trustees, Chairman of Board of Trustees, Minister, Elder, Second Assistant to the Pastor, and First Assistant to the Pastor. He was appointed Senior Pastor on June 5, 2015, by General Board Member Bishop Frank O. White, a fellow Hofstra graduate, and installed on October 18th, 2015.
Pastor May was a member of the South Jersey Ecclesiastical Jurisdiction of the COGIC since its inception. Pastor May served faithfully under the leadership of Bishop Curley Guidry as the Expeditor, and then under Bishop Hillmon Moses, and most recently under Bishop Tyrone McCombs. He served as the Treasurer of the International Council of Pastors and Elders of the Church of God in Christ for 8 years and served on the Executive Board for over 12 years.
Tommy and Hazel regularly participated in philanthropic endeavors to various organizations and churches in Camden and the surrounding areas. They also funded scholarships given through San Juan Baptista, Lindenwold High School, Refreshing Springs COGIC in Riversdale, Maryland and Bethany Baptist Church in Lindenwold, NJ to name a few. In 2009, they pledged a ten-year gift of $10,000 per year to Rowan University to assist underprivileged students pursuing a degree education. They also sponsored an orphanage in the Dominican Republic.    
Tommy loved to fish, play golf, and travel with his family, he traveled to over 70 countries and 6 continents. He loved taking his family to the zoo, circus, and amusement parks. He loved the annual trips he took to Mexico, Walt Disney World, and Wildwood with his children and grandchildren. He also enjoyed taking his grandchildren to Philadelphia Phillies and Sixers games, buying them whatever they asked for, much to their parents' dismay.
Tommy was well known for his singing voice, often leading praise and worship services. He was often requested to sing The Lord's Prayer at weddings and Sovereign at funerals.
Tommy touched countless lives through the ministry of his funeral homes. He was honored to serve the families that entrusted their loved ones to his care. He took pride in offering his ministry of comfort to families in their time of bereavement. He took his business very seriously – if you were ever around him during a business call, you KNEW to be quiet and not make any noise! He will always be remembered as a generous, kind, and caring man. If he knew you were in need, he would do whatever he could to help.
Tommy was preceded in death by his son, Tyrone E. May, Sr, his parents Samuel Jr. and Lucy May, his brothers Harland, William, and Samuel May, and his sister Roberta Guy.
Tommy leaves to cherish his precious memory: his wife Hazel; daughters, Tonya May Avent, Terri Levy, Tina May and Toni May-Jervey; grandchildren, Jasmyne May, Tyrone May Jr., Tiffany May, Kennedi Avent, William Levy, Tarralyn Berry, Kassadi Avent ,Whitney Levy, Tyler Jervey, and Taylor Ezekiel; great-grandchildren, Jalen Merritt, Julian Merritt, Josiah May, and Kylie May-Hunter; sons in-law, Kenneth Avent, Will Levy, and Tyrone Jervey; sisters, Bessie Howell and Violet Wheeler; brother, Payton May; sisters-in-law, Christine Williams and Phyllis May, a host of nieces, nephews, cousins, and friends.
A word from the Editor-in-Chief, Chris Collins
Elder Thomas May was a great example for young men of faith, family, and entrepreneurship to follow.  As a man of faith, Elder Thomas May led by example preaching and teaching God's word.  As a family man, he certainly laid the foundation for others to follow. Family gatherings, family cruises, golf outings, and vacations were always exciting to see. It motivated me and others to enjoy family time. As a business leader and entrepreneur, Elder Thomas May set the stage. Having his wife, children and grandchildren share in building the successful May Funeral Homes is paramount. He believed in giving young aspiring entrepreneurs an opportunity to build businesses.
In 1995, Elder Thomas May was one of the first person to take a chance on me by taking out an advertisement that made it possible for the very first edition of the Anointed News Journal to be published.  Our relationship in business has been established for over 28 years. We are forever grateful to Elder Thomas E. May and the May family for their support and unselfish care to the Collins Family, the Anointed News Journal and to the many Families they've served throughout the years.
"His lord said unto him, Well done, thou good and faithful servant: thou hast been faithful over a few things, I will make thee ruler over many things: enter thou into the joy of thy lord." Matthew 25:21
By Chris Collins