Bringing a Vision to Life Starts with Stepping Out on Faith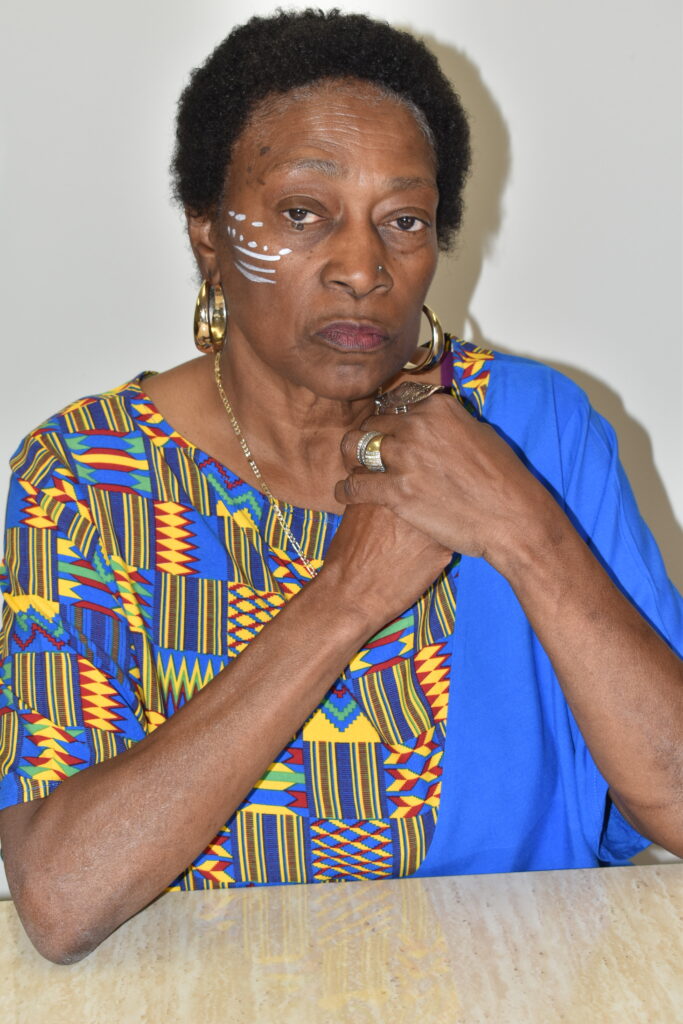 During an exclusive interview with the editor of the nation's faith based and professional newspaper for winners, Anointed News Journal, Tina Kupolati shares her vision for a new store in the city.
Collins:
We are here in interview with Ms. Tina Kupolati. Share with us, who is Tina Kupolati?
Kupolati:
I'm really from a little town in New Jersey called Jericho; which is really Wenonah. I was born down there and I loved being in the country. But one given day, my dad died. From there, my mom moved us to Camden. And when we moved to Camden, we settled on Erie Street. Camden is my place and I love it; I'm still living here.
I also do service in the community helping people however I can. I help people who are incarcerated and have no support from their family. Additionally, at one time decided I wanted to do business. So, I did research and then decided to do this business that I'm interested in now.
Collins:
You're also a mother, grandmother, and great-grandmother as well. As an entrepreneur, you decided to venture off into the health & haircare cosmetology industry. Tell us a little bit about your journey and what it is that you're looking to do.
Kupolati:
Well, first of all, what got me interested was my granddaughter, she's also from Camden. She was doing her hair like every two or three days, and she was changing the style each time. And I thought, "wow, that is really too much." And then one day she was kind of lost in finding her way. And I told her, "Why don't you go to school for it?" So, she went to school and as I was picking her up and dropping her off to make sure she finished that class. I began to see all kinds of ladies come in and out of there with all of these hairstyles and different kinds of things. So, I began to research it, and when I did, I ran into a company which was called "Beauty Supply Institute", out of Mapleton, Georgia. I found out that all over YouTube there were videos on how they were helping over 200 different sets of black people open up beauty supply stores. At that point, I felt as though that was what I wanted to do, especially because of the money that was involved. The Asians that own these beauty supply stores in Camden are not bringing the money back to the neighborhood; so this is a way for me to make my mark.
Collins:
Do you see a need in the black community for a beauty supply store?
Kupolati:
Definitely. The need is there. And again, as we look over the Camden area, there are a few stores here. I would say five or six scattered over the city, but at the same time, they don't represent us. So, I'm feeling fantastic about it because once this thing comes into fruition, it's going to be a wonderful thing, especially with all the revitalization that's going on in the city. To see a black person step up and make it happen will be great.
Collins:
What can a consumer expect walking into your beauty supply store?
Kupolati:
Well, first of all, what's going on with the ladies now is all of them want to do their hair. At this point in my business, I want to be able to do something different for the community instead of just being able to sell them something and let them leave. I want to have good customer service, talk to them and be able to have that a relationship with them.
Since I have and am still going through the cancer situation. I think that when a woman loses her hair, sometimes she's going through a traumatic situation. During that time, I did all kinds of different things to embellish myself, to really feel good within my situation. So, sometimes people need that support; I also have some connections already to be able to hook into the cancer society. I can help the ladies beautify themselves, and give them some other stuff as well, to let them know that as they're going through that journey, they can still feel good about themselves.
Collins:
Okay. And I must say that you look remarkable, and yet you are still in your recovery with your fight against cancer. Through your research in the beauty supply industry, what were some things that you discovered that helped you make progress with your entrepreneurship journey.
Kupolati:
I got a lot of information that other people might have to struggle to get. When I hooked up with the Beauty Supply Institute, I found out it's more than just wanting to be an entrepreneur. There are all kinds of things involved in getting started and a lot of learning to do just to gather a base.
Collins:
There are a lot of people that make excuses for not being progressive and not pursuing their destiny. You had some major challenges along the way. You also previously worked in other industries. Most impressively, most people at your age would look into retirement, but you decided to pursue your own dream as a business owner. What words of encouragement would you give to someone that wants to pursue their destiny?
Kupolati:
I would tell people just to jump out and do it. It took me a long time to get to this point of wanting to be an entrepreneur; I wish I had done it earlier because I would've instilled it in my kids. I have productive kids that are doing good things. They have good jobs and all, but I wish that I would have decided this as a young person so that I could have instilled to them some of the business skills that I have learned along the way. Also, it is good to have generational wealth; a lot of times when parents or family members die, there is very little or nothing to leave the kids… My kids were questioning me, "why are you doing this at this time of life?" But I feel that I still want to be able to be a productive person. I still have grandchildren and I want to do this to make them even more proud of me. It would be nice to leave wealth to them and to be able to make a difference in my city, and be able to hire people and provide jobs.
Collins:
What is the name of your company?
Kupolati:
The name of the company is called, The House of Queen. When I talk about it, I get kind of emotional because my great-grandmother was born into slavery. And one day when I was walking through the graveyard, visiting the grave, the headstone was almost washed away. And it looked like cave stone. The stone was chiseled and it just had her name on it, no date of birth or anything. And I promised myself that when I got some money, I was going to put a nice stone there. I was able to do that this year and it brought tears to my eyes. What I put on the head of that stone is, "Our Queen". Her name was Passion Yelldel. She is the queen and everyone under her, which is all my family is in the house. And they come under that heading, which is the House of Queen. And it brings tears to my eyes, my great-grandmother…
Collins:
Fantastic! And tell us about the products that you offer.
Kupolati:
The products are dealing with beauty & health. The beauty supply store is all kinds of hair, eye lashes, and products with ingredients that salons would use. We'll have all kinds of stuff for the body like clothes too. My plan is to build out the beauty supply store and have a beauty salon present in the back of the store. The Muslim ladies like to stay gorgeous as well, so we will have products to accommodate them too. I've been out interviewing people and getting new ideas. So, it's going to be a multitude of things where the community can be involved.
Collins:
Currently, you do not have a storefront, but people can still get your products by calling you or reaching out to you online. The store is something that's up and coming. How can people get your products now?
Kupolati:
Right now, we are located at 1126 Lake Shore drive, right here in Camden. Most of the products I have are for the hair. So far, people have been coming directly there and buying the products. I'm in the process of looking for someone to do the online stuff, to put it online so that all the products will actually be on there. I'm also working on a spot at the Berlin Farmers Market.
Collins:
What is it that excites you most about this new journey of owning your own beauty supply company?
Kupolati:
I'm really, really excited about it. I have been out in the neighborhood spreading the word and I've been investing money into my business. I step out in faith everyday, believing that God is going to provide, even if He's dropping pennies from heaven, I'm looking for them. So, what I did is I went out and I talked to all the business people and told them that I'm coming and the people are all excited about it. I worked at a family store, a small retail store here in Camden, and people are coming into the store and they're asking me, "when is the store going to be open?" They're all excited. I talk about it everywhere. If I'm in the hospital, I'm talking about it. So, I'm excited about it. And the day that that store opens in Camden, by me, as a black woman; oh, it's going to be a grand opening. I'm waiting for it.
Collins:
Do you have a projected timetable for a grand opening?
Kupolati:
I wanted it to be last year, but again, I'm waiting for that last money to come about so that I can make this move. I really want it to be done before this summer is over.
Collins:
You're still looking for some additional resources, have you identified a location and are you looking for possible investors?
Kupolati:
Yeah. Investors and a location would really be a good thing. There is one place that I have my eye on and it's been vacant for a while. I'm hoping it will stay there until this money comes about. But I believe God will make a way for me. I'm going to knock on doors and kick down doors, whatever it takes in order for that to happen. And I believe that.
Collins:
Why is it important for grassroot beauty salons and barbers to patronize your company?
Kupolati:
I think it's good to patronize my company because at the same time I know the value of how important it is to me that I patronize them. We need to support each other. In my travels I have went around to all the black shops and talked with them; They're glad to see me on the scene initiating this. And as I look in this city and see all the businesses that are open, I see Spanish people, I see Asian people. I'm encouraging black to step up as well. I know it can be frightening to do it. When I spent that first money to invest into this business, I said, "Oh my goodness. Do I really want to do this?" My kids were also urging me to retire and enjoy the money that I had. But I thought about it, and I jumped out on faith and started my business. And so even though those finances are still needed, I'm going to stay and hang in here until the end; somebody is going to open some doors.
I think that it is just important for black people to see it. I've heard that there have been small stores that have opened, but this store is supposed to be a major store, big enough to take up some space where you can see it. People can come in and have an experience rather than just buying some hair and leaving; and basically that's what the other shops do. I want to be able to make a difference in this community. I just believe in Camden, there's a lot of stuff that we see that's positively happening in this place. Oh my God. I just believe in the black beauty supply store. When this thing hits, it's going to be all that. And I'm ready for it.
Collins:
The anointed journal has over 180,000 readers weekly. In conclusion, what do you want to say to the readers of Anointed?
Kupolati:
I'm in this process, I've made it so far, but I'm and still looking to acquire more finances to make this vision culminate. I'm almost there, but not there yet. I'm about $24,000 away. Investors would be great; and maybe somebody within the business community would be willing to put some money back into the neighborhood by investing in this opportunity.
Collins:
And I just want to be clear to the readers, although the physical storefront is not up and running yet, they can still come to your location and purchase your products.
Kupolati:
Yes, it is 1126 Lake Shore. And an online store will be up soon.
We wish Tina Kupolati success with fully launching her vision of the House of Queen store. Her story is certainly one of inspiration. We look forward to seeing more black-owned and women-owned businesses in the city of Camden.