A conversation with Michael James, Chief Marketing Officer, Amerigroup.
As our nation continues to navigate through these tough times during the COVID-19 pandemic, millions of Americans have concerns about meeting their health needs. Experiencing our "new normal", wearing facemask, being confined to our homes, being self-quarantined and out of work for 40 million displaced workers, have given us all some type of mental health issues. Although some more severe than others, we have all experienced new personal behaviors. These behaviors could simply be eating more at home because of confinement, drinking more alcohol to unwind, smoking more to calm nerves, etc. Those that are used to exercising often have to use alternative measures to stay active.
Amerigroup, An Anthem Company, and leader in the healthcare industry, has stepped up to the plate and have gone above and beyond for its members. During an exclusive interview with the nation's premier faith-based and professional newspaper for winners, Anointed News Journal, Chief Marketing Officer Michael James, shared his outlook on Amerigroup's mission to serve during this pandemic.
Collins:
Who is Michael James?
James: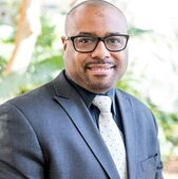 I'm a God-fearing person who grew up in humble beginnings with 5 sisters and 1 brother. I'm the youngest of the bunch, so I'm also considered to be the "rotten apple" if you ask any of my siblings.
My parents migrated from Jamaica and came to America to provide a better life for their children. I've watched my father, may he RIP, and my mother work majority of their lives. My father was a bellhop and my mother also worked in the hotel sector as a maid. I still reflect back from time to time how my mother use to bring me to work with her when school let out early. I still mow my mother's lawn today. It's an opportunity for me to escape and take a mental break so I actually look forward to it. I have 4 beautiful children I adore and a lovely fiancé that completes me. I'm currently pursuing my doctoral degree at Temple University, Fox Business school under the supervision of Dr. Monica Wadhwa, with the expectation to be done in 2021. I'm also a member of Phi Beta Sigma Fraternity, Inc. and an active member of the Iota Chi Sigma chapter. Also known as "The Jersey Shore Sigmas".
Collins:
What motivated you to pursue a career in healthcare?
James:
I entered into the health care industry by way of serendipity. My background is extremely diverse where I started in the music business, then retail, then biotechnology, and landed into my passion, which is health care. I was looking for something different because I liked the job I was doing in biotechnology and its level of importance, but I did not love it. A good friend of mine was working in healthcare and found out I was looking and recruited me. This was roughly 15 years ago, and I never looked back. I lost my father to prostate cancer and have a number of friends and family that are plagued with chronic conditions. Healthcare is personal for me and being in health care makes me feel like I'm doing my part for the better good of the human race. There is plenty of work that needs to be done especially when it comes to bridging the health disparity gap for the vulnerable populations we serve. So, to answer your question directly, helping people to improve their health and wellbeing motivates me.
Collins:
What exactly is managed healthcare or HMO?
James:
In New Jersey, Medicaid benefits are run through managed health care. This allows people through the State to enroll in a Health Plan which manages their healthcare and offers special services in addition to the benefits to which Medicaid clients are entitled. Through managed care, New Jersey Medicaid members have access to healthcare providers and a comprehensive package of preventive health services, that combined with the full range of Medicaid benefits, allows for the best healthcare possible.
At Amerigroup, we serve individuals and families to provide medical, behavioral, dental and vision health benefits for managed care enrollees.
Collins:
What are clients most concerned about during this pandemic?
James:
One area where we've seen a significant increase during the pandemic is the need for behavioral health services.
We understand that a person's overall health is impacted by a wide variety of physical, mental and emotional components and it's imperative that all of these aspects be addressed in order to enhance the health care of our members. To focus on improving whole-body care for our customers, Amerigroup increased its efforts to introduce programs that address social determinants of health, such as access to quality education, healthy food and water, affordable housing and other general living conditions that can impact health.
One example of this is access to food. Food insecurity affects approximately 50 million adults and children across the U.S. and many people have to drive upwards of 50 miles one-way to reach the nearest grocery store. When access to grocery stores is limited, people often resort to buying food in places like corner stores and gas stations where there are not a lot of fresh food options or where nutritious food is limited due to cost.
With limited or no access to supermarkets that stock fresh produce, low-fat dairy, whole grains, and other healthy foods, these communities are more likely to suffer from high rates of diabetes, cardiovascular disease and obesity.
By bringing fresh, healthy food straight to shoppers who have limited food choice options or other barriers to healthy food access, such as lack of transportation, we are able to address the problem of rural food deserts and increase food security for our members.
Collins:
What does Amerigroup think about the times were in?
James:
At Amerigroup, we understand the unique and unprecedented impact this pandemic is having on the people of New Jersey and the communities that we work tirelessly to support. There are rare experiences in our lifetime that have profound, pervasive and lasting impacts. The COVID-19 pandemic is one of those rare experiences. The day-to-day social distancing challenges pale in comparison to the deep financial and health impacts that have affected many in New Jersey. During this time, Amerigroup New Jersey remains focused on serving our community and members.
Collins:
What exactly has Amerigroup been doing to help their members during this pandemic?
James:
We're working tirelessly to ensure that people have access to COVID-19 testing and care but also making sure we're addressing whole-person health for everyone in the communities we support. In particular, we are working closely with our state partners in the New Jersey FamilyCare program and at the Department of Human Services to make sure our members essential healthcare needs are meet during this time of great stress on the healthcare infrastructure. We are performing enhanced outreach and care management to our members as part of meeting that goal.
We understand the immense pressure that is currently being put on NJ food banks, and we're committed to supporting these organizations in their mission to address food insecurity. We want to make sure that people have the ability to access fresh and nutritious food in a safe and timely manner that encourages social distancing. To support those efforts, we are proud to announce that we donated over $50,000 to the Community Food Bank of NJ who does a lot of great work in Camden County , Tomchei Shabbos D' Lakewood, CUMAC in Paterson, and other great organizations that help to address food insecurities. These partnerships will enable us to help provide food for underserved populations throughout the state.
We have also taken several steps, including waiving copays, coinsurance and deductibles for the diagnostic test related to COVID-19, relaxing early prescription refill limits of most maintenance medications, waiving cost shares for using our telemedicine service, introducing Psych Hub, a digital resource designed to help individuals and care providers address behavioral health needs resulting from the COVID-19 pandemic, and suspending certain prior authorization requirements, to make sure that our members and communities have the medicine and medical support they need.
Collins:
Has anything changed how Amerigroup serves its members during COVID-19? Is any additional work being done by the company?
James:
We have been particularly inspired by our associates who have stepped up to help those in need in many ways: providing meals to the frontline healthcare workers and engaging in 'virtual volunteering' such as online teaching and telephone outreach to seniors or those isolated, to name just a few. We also launched a Medical Associate Volunteer program which enables Anthem associates with professional medical training to volunteer and assist in the local community's response to COVID-19.
At Amerigroup, we are incredibly grateful for the women and men on the front lines of the health care system, putting the health and safety of others above their own. We know that these brave men and women have been working diligently to support members of the community with the care and support they need, but this has put an incredible amount of stress on them and the Medical Associate Volunteer Program was really designed to help alleviate some of that burden.
It's something we are incredibly proud of because we know that anything we can do to support members, communities and frontline workers is having a profoundly positive impact on the overall health and well-being of the people of New Jersey.
Collins:
What sort of local, New Jersey-specific initiatives have you introduced to help people during the pandemic?
James:
As mentioned, we remain focused on being there for our members and all the communities we serve and helping them navigate this very challenging time in a way that meets their individual needs. In addition to our work with FamilyCare and more than $50,000 in donations to support local food banks, we've spent thousands of dollars supporting small businesses by providing lunches to those on the frontline, underwrote daycare services to numerous essential workers and we've donated over $100K worth of PPE equipment to frontline workers such as masks, gloves, gowns, and sanitizers and we're continuously looking for innovation opportunities to partner with local organizations to provide further support to the people of New Jersey.
At Amerigroup, we will continue to go above and beyond the call of duty to ensure we do the best for the members we love to serve and continue to support the communities spread across the 21 counties we service. We stand by our mission which is to Improve Lives and Communities. Simplifying HealthCare. Expecting More. In addition, we will remain steadfast with our vision to be the most innovative, valuable, and inclusive partner.
Collins:
What words of encouragement do you offer to Amerigroup customers and to the community at large during these difficult times?
James:
Amerigroup is committed to offering our members healthcare plans that provide high quality care while expanding access and improving health outcomes.
Yes, we are a healthcare company, but our commitment to people and communities goes far beyond what one may think of as traditional support such as seeing a doctor or getting a prescription filled. As a company, we are focused on the whole person. This includes the many factors in a person's life that can impact their health, including food insecurity, access to safe housing and consistent employment. All of these factors are known collectively as Social Determinants of Health.
To support whole person health, we are constantly looking for new opportunities to collaborate with local organizations to help our community.
Of course we want to make sure that people have access to the care and treatments they need, but we also recognize the vital importance of providing the communities we support with access to innovative programs that remove barriers to whole person health and we are committed to efforts to support these programs.
Collins:
Anointed News Journal has over 180,000 readers. In conclusion, what do you want to say to the readers of Anointed?
James:
As we work to address today's needs during these unprecedented times, we remain mindful of our commitment to create a simpler, more affordable and more effective healthcare experience for those who count on us. There is one thing that is certain: as we emerge from the current crisis, our new 'normal' will be different than it was before.
The pandemic has taught us many lessons. The impacts of disease are not the same on all of us but by taking a more agile approach to problem solving as we adapt to this rapidly evolving situation, we can provide innovative ways for the talented New Jersey physicians and other healthcare providers to safely deliver care to those who need it, improving access and health equity.
Collins:
The nation's premier faith-based and professional newspaper for winners, Anointed News Journal, salutes Michael James, and the Amerigroup team for taking a leading role in providing quality health care services to the community at large. We've had the opportunity to participate in a number of outreach initiatives spearheaded by Amerigroup and have witnessed the quality of care that comes from its employees and leadership. We encourage you that when the opportunity presents itself to enroll with a healthcare provider, consider Amerigroup.
By Chris Collins
Remember, go to anointedonline.net for the latest Camden News. We are Camden's Voice!